Coral Springs Movers
About 20 miles north of Fort Lauderdale, occupying a quaint 24 square miles, is the charming community of Coral Springs, Florida. Residents here appreciate thriving businesses and family-centric amenities. With a population of roughly 130,000, this Broward County gem of a city is often listed as one of the best places to live in the sunshine state. 
For those looking to move to Coral Springs or anywhere else in the country, our team pledges to "Move Americans Safely, One Family at a Time!"
Planning Your Coral Springs Move
Moving is a complex process that involves more than just transporting your belongings. There are to-do lists to manage and schedules to keep. You'll have to organize packing and transportation. Additionally, you'll need to prepare supplies and your new space for an efficient move. And when you're planning any move, you need Coral Springs movers who can help you with coordinating and facilitating every one of these complex moving details.
Allegiance Van Lines can help you coordinate your move, which may include:
Local or Nationwide Moving Services
Specialty item packing
Unpacking services
Direct deliveries
Assembly and disassembly of furniture
Wrapping and packing
Moving resources, tools, protective extras, and supplies
Storage options
Pre-move surveys
Let Allegiance Van Lines Handle Wrapping & Packing
When you can be efficient with your packing, wrapping, and unpacking efforts, your move will be a breeze! Our team at Allegiance Van Lines knows all the tips and best practices for seamless and smart wrapping and packing. Let our team be your wrapping and packing guide, and start your efforts with these tips in mind:
Declutter first and eliminate the need to move items you no longer want or need.
Collect all your packing supplies, including boxes, tape, packing peanuts, etc.
Create a list of oversized items and fragile items that will need specialized care during the move.
Organize your packing room by room, labeling each packed box as you go.
Keep all of your essentials separate from those items being packed.
Leave clothes in drawers and on hangers for convenience.
Coral Springs Movers Who Protect Your Home During the Move Process
There are horror stories out there about moving companies who come through the home, packing, and loading items without any regard for the walls, doors, frames, and flooring as they go. But when you work with Allegiance Van Lines, you can rest assured that our team is just as protective of your home as we are of your belongings. And we take every precaution to protect everything, usually including the following protective measures:
Corner guards
Plastic tarps
Covers and moving blankets
Non-slip treads
Cardboard sheets
When we're your moving company, you don't have to worry about the condition of your belongings or your home!
Storage Options
It's not uncommon to need storage solutions during a move. Sometimes, you need to wait before moving into your new space. Other times, it's helpful to free up space while you're packing. Either way, Allegiance Van Lines has you covered! We offer 30 days of FREE storage for all our moving customers! It's just another step we take to make your Coral Springs move seamless and hassle-free.
Visual Surveys Before Your Move
There are incredible benefits to having a pre-move survey and Allegiance Van Lines can conduct these visual surveys before any move. Let our team come in and help you gauge the associated costs for facilitating the move. Don't get blindsided by unforeseen expenses. Get the pre-move survey and know exactly what to expect!
Choosing Experienced Movers in Coral Springs
Not all moving companies will provide the same levels of customer service and moving solutions. And when it comes to experienced Coral Springs movers, no one is more trusted than Allegiance Van Lines.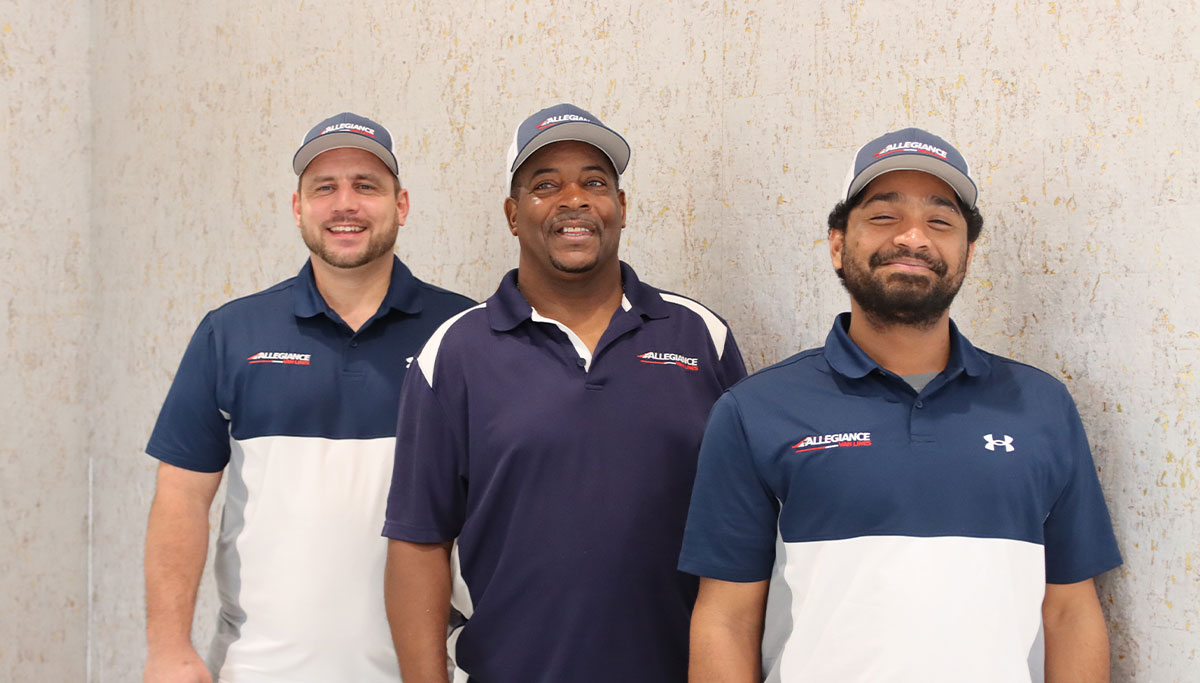 Look for a Moving Company You Can Trust
Before working with any moving partner, be sure to first confirm a few details about the movers. You don't want to put your treasured belongings and home access in the hands of just anyone.
Confirm Licensing
Confirm Insurance
Confirm Pricing & Estimates
Confirm Referrals
Look for a Moving Company with Relocation Experience
Experience matters when it comes to reliable moving services so before you hire anyone, verify the company's moving and relocation experience. Every move is unique, challenges may still arise despite your best efforts to plan and coordinate the move. Having a reliable moving company with extensive experience means having smart solutions and a trusted partner to navigate any concerns along the way.
Ask about how many years the company's been in the moving business.
Ask if the company has facilitated a move similar to yours before.
Ask if there are testimonials or past moving customers you can call.
Look for a Moving Company with all the Moving Resources
Moving requires physical labor and moving resources. Work with a company like Allegiance Van Lines, who brings all the tools, moving solutions, and resources needed to facilitate your move. We have:
Piano Boards
Moving Straps
Pallet Jacks
Two & Four-Wheel Dollies
Appliance Dollies
Let Allegiance Van Line Be Your Moving Company
Every moving endeavor is unique and deserves a customized moving solution. At Allegiance Van Lines, we know all the best practices, have all the available resources, and will customize every moving experience. Our full suite of moving services and accommodations will take all the guesswork and hassle out of any moving experience!
Let our team make your move seamless and hassle-free! Connect with us today at (561) 210-5120 to start planning your move and to get your FREE initial quote and visual survey.
Your move to the charming Coral Springs community is just a phone call away. Learn more about our available moving services and get in touch. When you need a reliable, experienced, and honest moving partner, you need Allegiance Van Lines!