Do I Need A Visual Moving Survey?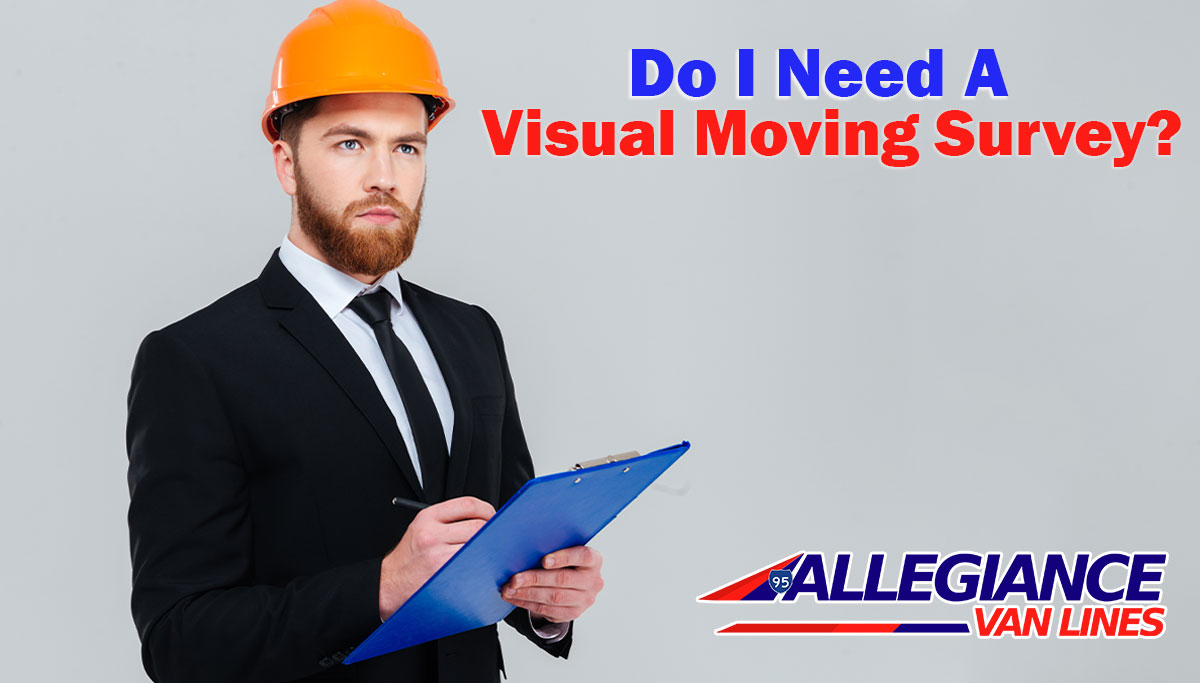 If you've asked the question, then you probably already know the answer. Yes, you do need a visual moving survey. With any large undertaking, proper planning is a necessary part of the process.
When moving, the factors that need consideration are numerous, furniture, appliances, keepsakes, and memories are involved. These are important to you and must be taken care of.
Let's have a look at some of the main points regarding visual moving surveys.
What Is A Visual Moving Survey?
A visual moving survey conducted by a reputable mover help you get an accurate quote you're your move. If the moving company you hire just shows up on the day of the move, they would have no idea what awaits them.
By conducting a survey pre-move, Allegiance Van Lines can assess the true cost of the move. We'll be able to develop a plan of execution so that nothing is left to chance on the big day. So, a visual moving survey is like a preliminary survey that gives the moving company all the necessary information they need to make your move go smoothly.
What Specifics Are We Looking For?
We aim to move Americans safely, one family at a time. To do this, we keep our service levels to the highest possible standard. During a visual moving survey, we are looking for the following.
The size and number of furniture items – referred to as an inventory list
Specialized packaging material that is needed
Form and shape of furniture to plan for packing into the van
Items that the movers are responsible for packing
Fragile, precious items and those of high value
What the access to the property and building look like
How A Visual Moving Survey Helps You
Accurate Cost Estimations
The first benefit to your family is that you will receive an accurate cost estimation. We understand that nobody likes to be surprised by bills. We try our best to afford you the peace of mind to budget properly.
Most Suitable Insurance Coverage Options
Moving insurance is not often thought of when it comes to your home. Not all insurers cover your home items in transit or storage. Surveying your home ahead of time will help us assess the insurance options best suited to your needs. You will be offered cost-effective options that will provide the best cover for your home.
Identification Of Items That Will Need Storage
When moving homes, your destination may not be 100% ready for all the items. This is not a problem for Allegiance Van Lines as we can offer our customers storage options.
Protection Of Your Property, Both New And Old
Even though you are leaving your old home behind, you still want it to be in the best shape possible. Surveys allow us to bring the right protective materials for landings, staircases, and floors.
What Can You Do To Prepare?
Book Enough Time Off
It's always best not to rush the estimation process. Make sure you can visit and itemize each room, and don't forget any areas. You'll want to make sure that you've checked each room thoroughly.
Identify Items That Are Not Going
If there are any items that you not going with you make sure you let the estimator know.
Identify Items Not At Your Home
Equally important is identifying items that will be included in the move but are not at your home. Estimators must be aware of this before so they can factor it into the estimation.
Your Movers In Fort Lauderdale, Florida
Allegiance Van Lines, LLC has over 10 years of experience in moving American families. If you'd like to know more about the moving process or are looking to make a move soon, call us at (561) 210-5120. We handle each move as if it were our own.