How Do I Find The Best Local Movers?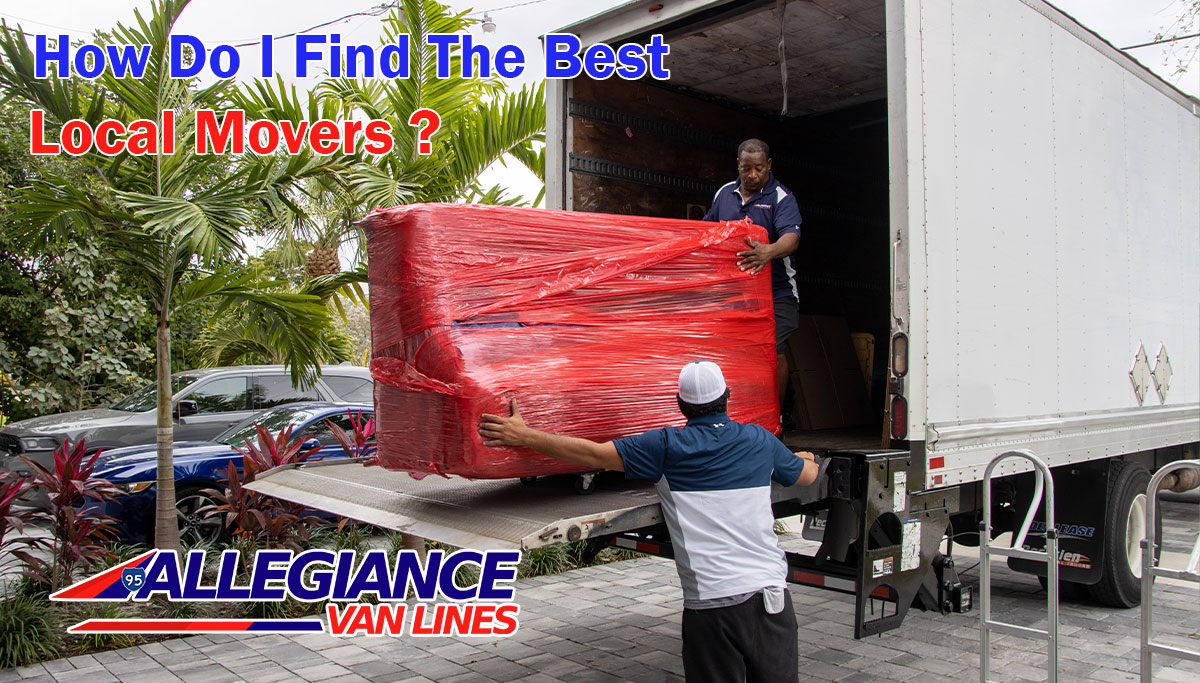 Finding a local mover to help you transport all your belongings from one place to another can be challenging. With a business that deals directly with people's personal belongings, reputation is everything. You wouldn't want to trust an antique heirloom, or otherwise fragile furniture to just anyone.
While many people prefer to enlist their friends or family members to help with moving, the average person is not equipped for such a task. Not only is moving furniture hard, stressful work, but it can also be dangerous.
Additionally, your neighbor or friend probably doesn't have the right materials to ensure that fragile pieces aren't damaged during transport. In this situation, it may be worth paying for peace of mind that all your belongings will travel from point A to point B safely.
The entire moving process can be stressful and finding trustworthy local movers can take a great deal of worry out of the process. It only takes a little extra time to find a reputable company for the job. You'll be grateful that you did!
Tips For Finding The Right Moving Company
Follow these tips so you can have a smooth transition from one home to another:
Ask For Referrals
Most people you know have moved to the area from somewhere else. You may also have friends who recently moved away. Reach out to them for recommendations about local movers. You can also ask coworkers or neighbors, including apps like Next Door, for recommendations within the community.
Look At Multiple Options
It's tempting to settle on the first viable option you find. After all, you have a lot on your plate as you plan your upcoming move; you don't want to spend more time finding a mover than necessary. However, it's recommended to look at a minimum of three different companies to make an informed decision. Ideally, you'll want to get an in-person estimate from each one. Having the movers see which belongings they'll be dealing with helps make the estimate as accurate as possible.
Make Sure the Mover Is Licensed and Insured
A reputable interstate mover will be licensed with the U.S. Department of Transportation Federal Motor Carrier Safety Administration. That number is called the U.S. DOT. You can request that number through the FMCSA website. You'll need it in the event that you have to file a claim (but hopefully, that won't happen!).
If your move is local, it's still recommended to verify the moving company with the local consumer affairs agency. Your local mover should be registered through their contacts database.
Check With The Better Business Bureau
A good rating with the BBB is the gold standard for a successful business these days. You can look up your local mover's rating on the BBB website for their rating. Consider it a red flag if the company you're looking at isn't registered with the BBB at all.
Look Into Professional Accreditation
In addition to being licensed and insured, legitimate companies in the trade industry will be vetted within their own circles. Ideally, your local mover will carry a seal from the American Moving and Storage Association.
Verify The Address
When doing an in-person estimate for a move, ask for a business card before they leave. Look up the address listed to make sure that it's registered under the company name as opposed to a residential name.
Read Reviews
Read a sampling of reviews from different sources to get a feel for the company's reputation. Check Google, Yelp, and the Better Business Bureau. No company is perfect, but an average rating of at least 4 stars is optimum. Be sure to check the dates of the reviews to make sure they're recent (within the last few months).
Protect Yourself From Moving Scams
Unfortunately, predators and scammers are everywhere these days; the moving industry is no exception. Keep in mind that most moving companies have to register with the state department in order to make their business legitimate. Verifying that registration is the first thing you can do to protect yourself from fraudulent dealings.
However, scammers can be quite clever and good at appearing legitimate when they aren't. As you contact local movers, you may want to ask the following questions to get a feel for what they're like:
How long has your company been in business?
What protections do you offer against lost or damaged property?
How do you handle any claim disputes?
Can you provide an estimate in writing?
The estimate is a key part to pay extra attention to. A legitimate, trustworthy moving company won't ask for a deposit upfront; always pay upon delivery to ensure that you will see your belongings at your new home. Also, take note of the moving van that they use. A legitimate local mover will have their own equipment and vehicle, not rented from somewhere else.
Signs of a fraudulent mover include:
Frequent name changes to avoid being flagged by the BB
No local address
Extra fees not listed on the contract
A blank moving contract (all belongings should be listed on the contract before you sign it)
Bad communication (unanswered emails or unreturned voicemails)
Unavailable licensing and insurance information
If a company seems off to you, trust your gut and keep looking.
Your Local South Florida Moving Company
Moving from one place to another can be exciting but also a major headache. From packing up your life's belongings to getting the house clean and ready for the next homeowner, you have a lot on your mind.
Let Allegiance Van Lines, LLC take some of those stressors off your plate. From packing your belongings for you to carrying them safely from one place to another, you can rest assured that everything will arrive at your new home in pristine condition, on time.
Allegiance Van Lines, LLC is a licensed and insured moving company. We have over 20 years of professional experience moving thousands of families into or out of the South Florida area. Our moving services include boxing your belongings, transport, and storage options.
Call us today at 561-210-5120 to schedule a free estimate. Wherever you're going, we'll help your furniture get there safely.